Damn You Martha Stewart!
January 5th, 2011
Hello Again Friends,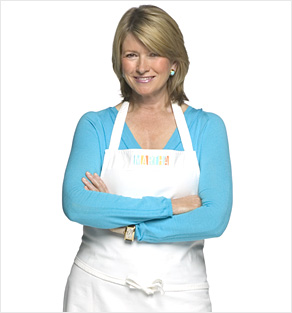 I'm sure many of you are asking, "Where did Tom go? He hasn't written a thing in over two months. I just don't know how I can get through my holidays without another fascinating blog entry from our favorite chef/writer."
What…none of you said that?
Well, be that as it may, it's been way too long since I've posted anything on this site. But yesterday, I realized that had to change quickly. And who was the inspiration, none other than the Domestic Diva herself, Martha Stewart.
Before you all run away screaming, please hear me out. Michelle and I were relaxing at home on Sunday and catching a little television. I can't remember what we were watching but I'm sure it was something on PBS or the Discovery Channel because that's all we watch. It definitely wasn't a goofy reality show involving spoiled women who don't have jobs or a group of young people who have funny nicknames and live by the beach on the eastern seaboard. Don't be ridiculous, I mean really.
Anyway, we're watching this program when a promo for Martha Stewart's show appeared. Normally, I can't tune away fast enough when I see her face cross my screen but (guys, bear with me please) I wasn't in control of the remote so I have to gut it out. Then, to my surprise, she says her next show is going to focus on something near and dear to my heart: Sustainable Seafood. Yep, you know what's coming next. Being the gullible person I am, I get suckered in and suggest to my lovely wife, "let's DVR it."
So last night, we sat down and decided to go ahead and check out what she had to say about one of my favorite topics. And let me tell you. It was great. Well, great if you don't mind a slow moving dirge of a 23-minute add for Apple products. Seriously, the time she spent selling electronics trumped anything that was said regarding the importance of making sure our marine ecosystems remain healthy. We quickly fast-forwarded through the show as I grumbled and vowed never to be taken in by another stupid promo as long as I live. (Yeah, right.)
But, here's the rub. In the small time between Martha's explanation of the latest apps for the iPad and iPhone, she did touch on some very important subjects. When you shop for seafood, you have to know what you're buying. Know where it comes from, how it was caught or farmed and what the vulnerabilities are for the species. All of these are important to ensuring that what you're putting on your dinner table is the best possible choice for the environment.
Now, I know this sounds like way too much work for a simple trip to the grocery store but, luckily, there are some tools available that make your choices simple.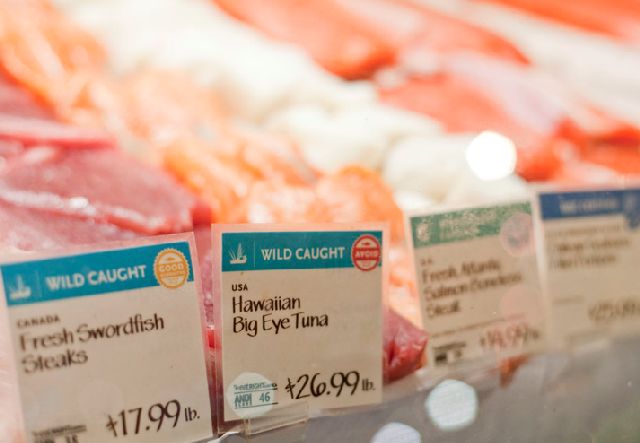 The easiest is to print yourself a copy of the Monterey Bay Aquarium's Seafood Watch Guide Seafood Watch Guide. It tells you exactly what are the best seafood choices and what to avoid as well as decent alternatives all broken down to different regions of the country.
Whole Foods has taken this list to the next level and made responsible purchasing even simpler by posting each fish's placement on it right along with the price in their seafood case. (For an example, see the photo on the right.)
If you'd like to learn more on the subject, there are plenty of websites that provide in depth information sustainable seafood. My favorites are the Monterey Bay Aquarium and the Blue Ocean Institute.
And don't forget you can always e-mail me as well if you have any questions or comments on this or any other topic. I'm always glad to hear from our friends and help in any way I can.
The bottom line is, this is an important issue for us, as consumers and our planet. I want the information to get out there and I'm glad the subject of sustainable seafood is finally getting at least some of the airplay that's necessary. Hopefully it's a trend that will continue even if it does have to come from Martha Stewart. Next time, however, please leave the electronics sales to Best Buy.
Thanks for reading.
Chef Tom