Happy National Sandwich Day!! To celebrate, we're re-posting a recipe from a couple of years ago for one of our favorite sandwiches. Please enjoy.
Hello again friends,
Welcome to November. I hope you all had a wonderful Halloween. Time to shift our sights from ghosts, goblins and candy to turkey, stuffing and pumpkin pie.
Honestly, November, and autumn in general, may be my favorite culinary time of the year. So many great, comfort-style ingredients come into season. Carrots, pumpkin, sweet potatoes, walnuts, apples, pears and grapes all are at there best in the fall.
Today I'm going to bring you a recipe that involves one of my favorite delicacies that also happens to be at its seasonal peak, butternut squash. An ingredient that is beautiful in its simplicity. Fantastic in soups, pureed or even just diced and roasted. You may have sampled it in any number of these ways. But have you ever had butternut squash in a sandwich? I know, it sounds strange. But let me tell you this recipe is absolutely delicious. (And it's on our menu.) Give it a try and I'm sure you'll fall in love with it the way Michelle and I have.
So without further ado, here's EVERGREEN CUISINE'S recipe for: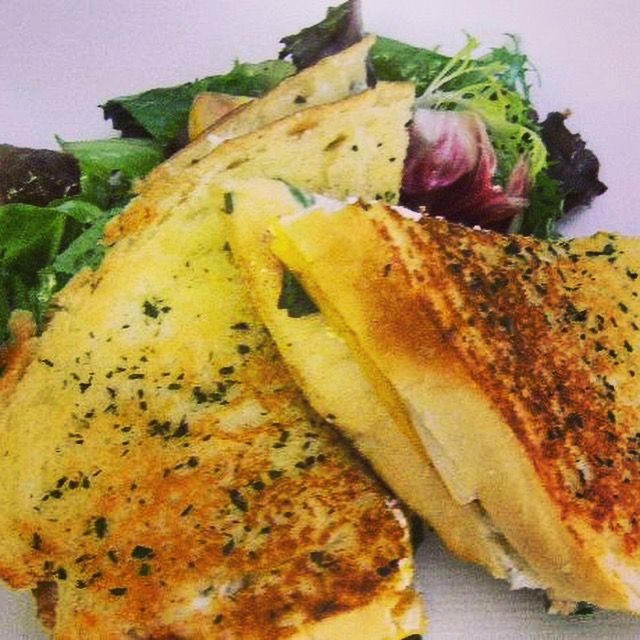 Butternut-Sage Grilled Cheese Sandwich
Makes 4 Sandwiches
1 Medium Sized Butternut Squash
1 Tsp. Kosher Salt
½ Tsp. Black Pepper
½ Tsp. Sugar
¼ Cup Vegetable Oil
8 Slices Rosemary Bread
¼ Cup Whole Butter (softened)
½ Cup Sage Aioli (Recipe to follow)
8 Slices Swiss Cheese
¼ Cup Goat Cheese
1 Cup Arugula
Preheat an oven to 400° F.
Separate the elongated end of the butternut squash from the bulbous end. Reserve the bulbous end for other applications. Peel the long end and cut lengthwise into ½" slices.
Lightly toss the butternut slices with a neutral vegetable oil such as canola. Place the slices on a sheet pan covered with parchment paper. Sprinkle both sides with salt, pepper and sugar. Roast in the 400° F oven until the slices have softened. About 25 to 30 minutes. Set aside to cool.
Lightly butter one side of each slice of rosemary bread. Make sure to keep the similarly sized pieces together so they can be combined later as each side of the sandwich. (If you can't find rosemary bread, any other round loaf will work fine. You can even add minced rosemary to the butter if you want the rosemary flavor).
Spread the sage aioli on the unbuttered side of each slice of bread so it's completely covered.
Place a slice of Swiss cheese on top of the aioli side of each slice of bread.
Place a slice of the roasted butternut squash on top of the Swiss cheese on 4 halves of the sandwich. (1 slice per sandwich).
Crumble the goat cheese on top of each slice of squash.
Top with arugula and carefully place the other slice of bread on top (buttered side out) to make the sandwich.
Place a large skillet over medium heat. Once hot, place the sandwich in the pan and grill until browned on one side. (Yes, this is just a fancy grilled cheese.) Carefully turn and brown the other side.
Cut in half and enjoy the melty, sagey, squashy goodness. (I like to serve it with a nice mixed green salad with a honey-mustard vinaigrette.  E-mail me ChefTom@EvergreenCuisine.com if you'd like the dressing recipe)
Sage Aioli
½ Cup Mayonnaise
2 Cloves Garlic (crushed)
2 Tbls. Sage (minced)
1 Tsp. Lemon Juice
Pinch of Kosher Salt & Black Pepper
Combine all ingredients and reserve.
There you have it. An unusual, vegetarian sandwich that is absolutely delicious! Give it a try, I'm sure you'll enjoy it. Have a wonderful November and remember to keep us in mind for all your Thanksgiving plans.
Thanks for reading,
Chef Tom